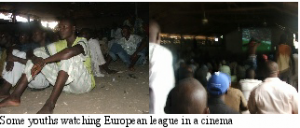 In Maiduguri apart from cold pure water, one thing that refreshes many residents especially youths due to the harsh weather, is their TV sets or, that of Local cinemas across Maiduguri. Here, it is obvious that European football leagues such as Bundesliga, Laliga, Premier, Serie A and the Champions League have become an overwhelmingly spectator products with fans religiously identifying with various teams, which they display openly either by wearing T-shirts, bracelets or by pasting stickers of their clubs on windscreens of both private and commercial vehicles.
"By first sight, you can easily tell a person's team, and as soon as you realized he is a fan of your club you begin to relate with him freely but when he is from a rival club, you will naturally feel detach form him", says a fan of Real Madrid. Another die hard fan of Real Madrid and a bus driver, refused to pick 3 youths that claimed to be stranded last week along Baga road in Miaduguri, but the driver suddenly apologized to one of the youths that wore the Jersey of Real Madrid. "You, come in because I can see you are a fan of Madrid" said the driver, the others pleaded that they are all fans of Madrid, therefore he should help them as well, but he demanded for prove, which they couldn't provide and he left the remaining two harking back.
A young Almajiri presumably between the age of 12 to 14 who gave his name as Ahmed Sanusi said, he does not know his exact age but said, he is from Jigawa State and was sent to Maiduguri by his Parents to learn to memorize the Qu'ran. Ahmed had the following encounter with Daily Trust: "I have been a fan of Manchester for the past 4 years now" he said when asked if he knows where is Manchester, he replied "they are in England, I even know the name of their stadium, their managers and the names of the players, the goal keeper is Vander sar, their strikers are Rooney, Gunner, Carlos Tevez….", Ahmed's knowledge of Manchester was later corroborated by John Kitons Sunday, a 400 level Mathematics Student with the University of Maiduguri, a die hard Manchester fan.
Interestingly, however, Ahmed could not mentioned the names of at least 10 out of many Companions of Prophet Mohammed, which is a primary focus of his studentship in Maiduguri neither could he say his exact age yet, he knows the names, age and transfer fees of about 50 footballers across different clubs in the European leagues with a clarity similar to a world class commentator. "I am not ashamed of my love for football I spend most of my time watching football, looking for what to eat and pursuing my studies". To him, to be occupied with football is better than the social vices some of his peers are associated with.
In exploring the life and times of foreign League Fans in Maiduguri, Daily Trust trailed some youths in Hausari ward, there, Real Madrid is most dear to many of them and last season after an impressive outing at the Laliga, Real Madrid was at the Champions League but when the Fans realized their team was in a ticklish situation, from Maiduguri, to far away to Spain they resorted to mystical means, "We contributed money among ourselves and bought a big Ram worth N12,000 and gave it to a spiritualist who then made sacrifice for our club to win the Champions League" said a die hard Real Madrid fan (Name withheld).
Mohammed Suleiman, one of the coordinators of the two largest sports cinemas at the Maiduguri Sports Centre and at the Gamboru Market, and a Real Madrid supporter, corroborated the revelation by some youths in Hausari that claimed to have slaughtered a Ram for their team, living far way in Spain yet, the team does not know of their existence here. "I was not surprised when I heard the news last season because even here, where we are sitting, rival fans have stabbed each other with knives and machets in the past. We were even told about the boy that was killed along Ali Kotoko house" said Mohammed. He recounted the number of times he fasted and prayed for Manchester, whom he claimed he can do anything for.
"There are times when I fasted for my team and I pray often for them to win and whenever, they lose a match even my children will try not to offend me that day because, they know that I am not in a good mood", these are the words of Sunday Aneh, a manger of a local sports cinema in Shagari lowcost in Maiduguri. "Watching football gives me relief particularly in this hard times when things are very tough, no matter how hard you try to work" said Aneh.
According to observers, there has never been a single event in memorable history that made people- rich and poor, Christians and Muslims, Hausas and Igbos- to become slaves to the screen. "What we see everyday in our cinema is, people are glued to the screen, they forget themselves and their differences, unless after a game", when rival fans cannot control their outbursts at that point they pitch at each other and the consequences, leads to injuries and on two occasions, lose of Human lives in Maiduguri", as Mohammed implied.
The five big Western European leagues – England, Germany, France, Italy and Spain – witness their total revenues grow from $2.5 billion in 1995-1996 to an estimated $8.2 billion in 2006-2007, according to the Deloitte Annual Review of football finance. But in Nigeria, the NFA and NFL have been occupied with politics instead of professional commitment to develop our local leagues, as Mohammed Kalli, a former player and now member of the Couching crew of the El-kanemi football club in Maiduguri contended. "We don't make any profits from our local leagues, in fact, we spend more and get no results here" he said.
"The European Leagues are entertaining and as well, organized, we also get the opportunity to watch fair play mixed with class and this is something you can never see in our local leagues" said Kalli who cited the growing interest for South African League in Nigeria as a food for thought for the once football nation of Africa, Nigeria, to learn from. "We are beginning to watch the South African League that is so far, the best in Africa". I hope that very soon, Nigerians will go to Stadiums and watch the local leagues and generate the kind of revenues which the foreign leagues do", Kalli concluded.
According to the coordinator of the largest cinema in Maiduguri, to set up a place one need two projectors, a generator and make the place decent which will cost you "700 to 800 thousand" naira and from beginning of the season to the end of the season, you can recover your investments" and the following year, you will be living on profits and maybe what you need to maintain the place" said Mohammed.
However, for small local neighborhood cinemas that are found nearly in every corners in Maiduguri, the investment is far less, but the profits " are big as well" and according to Aneh, in Sports Cinemas the authorities don't bother them because there are no age limits or censors when it comes to sports. " If there is one investment that you will recover your money fast, is football cinemas", all you need to do is, find good location, decent environment and a generator set " then , you will smile to the banks" he said.
Even the cyber cafés are not left out of this feats, according to Dev O. Dev the manager of fastlink internet Café in Maiduguri, "everyday we see boys coming into our cafes sometimes with translators in the case of illiterates, who come to browse and print match fixtures and other details of foreign leagues "since when the trend of leagues came in, even those that are not interested in browsing come in to browse and in turn, boost our business" said the manager.
According to Dev, The foreign league phenomenon means, good business for cafes and he does not see any thing wrong with it only for the stories of thuggery in cinemas and the under age that come in to browse football instead of looking for books and other materials to develop themselves. "This is my only worry" he said.
"Our youths don't read, they are only interested in sports and government is encouraging it instead of doing more to stimulate the habit or reading and appreciating our indigenous cultures and history" says Chris Ntaku, a trained Anthropologist and a lecturer of Museum studies, Department of Creative Arts in the University of Maiduguri " my fear is if this trend continues then, the implications will be a disaster" he said.
According to the Principal Secretary to the Commissioner of Education in the state, Alh. Baba Ciroma who was seen in one of the sport cinemas said "there is a lot of disadvantage particularly to many of our youths" said the elderly man in his late 50's "my children don't come here in the afternoon, they go to other places because I am here, only in the night they do come here while I am watching as well" he said.
"Many of these youths that are involved in violence are either not here to watch the ball or, they don't understand the game because the game teaches fair play so why attack one another because you are in a rival club", he asked.
According to Boni Demas and lots of other fans at the various sports cinemas visited "we are enjoying our lives any time the European League Session starts. And what we normally do during the off season is to watch documentaries of their vacations, their cars, their women and other life styles "they have touched our lives and made us to appreciate many things in life" said John Kitons.
The lessons John claim to have learnt is to strive hard, which is what he thinks many of his football idols are doing to remain fit, " my only worry is the violence, we know their are thugs ready to pounce on anyone or even kill for their clubs just like the kind of thugs political leaders have" said John.
But however, a mother of 6 children all in their Secondary and University said, "I don't see anything good in the new found love for foreign TV football, our children abscond from school to see these games, they don't read, all they are interested is to set their eyes on TV screens" said Madam Esther Malgwi.
For Mohammed, a member of the El-kanemi coaching crew, " Many youth don't even have time to play football in order to develop themselves, they spend more time watching than practicing. So I wonder if we may continue to have new players for the future" he said, but Kitons disagreed that " I was not a footballer five years ago but watching foreign leaguer developed my knowledge of football and I am now doing very well on the pitch.
Whether or not Real Madrid fans will slaughter rams this season, remains to be seen because, according to Boni, "we are ready to do anything for our club Madrid to succeed" and even if it means to steal or engage in hard labour "our teams have become part and parcel of our lives".
If only government or our politicians can take advantage of this new found love for football across the country, particularly in our typical settlement, messages of HIV/AIDS, Anti-corruption, Patriotism and other moral values can be passed across to the youths through this medium, and in a short time it may be picked and if they imbibe it then, we can be sure of a more productive generation who will not be slaves to Televisions but slaves to the desire to develop themselves, as Madam Esther contended.